Bake it Better – Cookbook Giveaway
September 19, 2023 by Jenny
Enter our US/UK giveaway to win one of two copies of Bake It Better: 70 Show-stopping Recipes to Level-Up Your Baking Skills by Matt Adlard.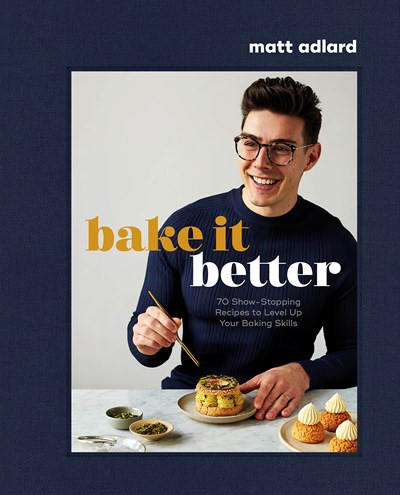 Matt Adlard's debut cookbook Bake It Better: 70 Show-stopping Recipes to Level-Up Your Baking Skills is impressive. Matt is a self-taught baker and pastry chef from Norwich, England with a large social media following. Bake it Better is a baking course for the home kitchen and contains a wealth of information from the basics ingredients, tools and equipment to step-by-step photos and details for techniques: forming a tart crust, tempering chocolate and kneading dough.
The recipes are indeed show-stopping and include Chocolate and mascarpone travel cake, Peach crumble soufflé, Tiger madeleines, Hazelnut praline mille feuille, and a Tropézienne cube. The aim of the book is to lead us through the baking process. Each recipe comes as a pair, a Tier 1 recipe and a Tier 2 recipe. Tier 1 teaches us the fundamentals and then when we are ready we can take a fundamental element from Tier 1, level it up and create a dessert that mimics that of a professional bakery.
Our
takes you inside this beautiful book and features the following
Bakers, you need this book!
Special thanks to the publisher for providing two copies of this title in our promotion. Entry options include answering the following question in the comments section of this blog post.
Which recipe in the index would you like to try first?
Please note that you must be logged into the Rafflecopter contest before posting or your entry won't be counted. For more information on this process, please see our step-by-step help post. Once you log in and enter your member name you will be directed to the next entry option – the blog comment. After that, there are additional options that you can complete for more entries. Be sure to check your spam filters to receive our email notifications. Prizes can take up to 6 weeks to arrive from the publishers. If you are not already a Member, you can join at no cost. The contest ends at midnight on November 8th, 2023.
a Rafflecopter giveaway