When Pies Fly – Cookbook and OXO Giveaway
September 19, 2019 by Jenny
Enter to win one of three prize packages that include a copy of When Pies Fly: Portable Pastries from Empanadas to Strudels, Hand Pies to Knishes by Cathy Barrow along with a set of OXO pastry products.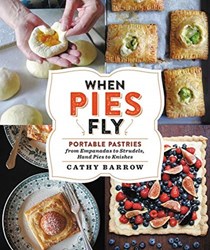 Cathy is now the author of three titles Mrs. Wheelbarrow's Practical Pantry: Recipes and Techniques for Year-Round Preserving, Pie Squared: Irresistibly Easy Sweet and Savory Slab Pies and When Pies Fly: Portable Pastries from Empanadas to Strudels, Hand Pies to Knishes. Each cookbook is detailed, beautifully photographed and contains recipes one will turn to again and again.
Using one of Cathy's books is almost akin to having her in the kitchen with you. This morning, organized to begin the potato knish recipe, I was excited about making something new to me but exhausted from a stressful week. I wasn't confident that these knishes were going to resemble knishes. I'm a good cook and baker but when I'm not feeling it, my end products look like the really bad submissions to Nailed It! Thankfully, the recipe instructions are spot on and simple to follow and after a few minutes, Jenny got her groove back.
From how long to knead, to warning that the dough is somewhat oily to step-by-step process photos, it is all here. I made extra potato filling in order to utilize my baked potato jackets for twice baked potatoes which were heavenly. While the knishes were baking, the kitchen smelled incredible. I had one of these tasty morsels for my breakfast/lunch and I was impressed with myself (well really Cathy). I would have nibbled on more throughout the day but I offered some to Jim's co-workers tomorrow (I cursed myself for that call).
The book is filled with surprises. Korean Bo Ssam and Kimchi pie poppers, Sesame chicken hand pies, and Philly cheesesteak galette are a few examples of the savory delights here. Fear not, there are plenty of sweet treats including a Glazed fruit tart, Lemon meringue tartlettes (shared below), and a Chocolate pecan tassie galette. This title is one of our cookbook options in the EYB Cookbook Club in October. Be sure to check out Cathy's events on our calendar.
Our EYBDigital Preview shares the following EYBDigital Recipes:
To celebrate When Pies Fly, I reached out to our friends at OXO who provided me with a half sheet pan with a silicone baking mat, a dough blender and a silicone pastry brush to use to prepare recipes from this title. I love OXO's quality and when purchasing tools and gadgets for myself – I always turn to them. OXO's site is user-friendly and if you spend over $19 you are granted free shipping! OXO generously has offered three sets of the three products mentioned above and pictured below to accompany a copy of Cathy's book in our giveaway!
Thanks to the publisher for providing the materials for our EYBD Preview above and for offering three copies of When Pies Fly. Our thanks to OXO for generously providing three prize packages of pastry tools to accompany Cathy's book. This contest is open to EYB Members in the US. One of the entry options is to answer the following questions in the comments section of this blog post.
Which recipe in the index would you try first?
Visit OXO's site and leave a second comment about which product you would like to try? I love their POP containers!
Please note that you must be logged into the Rafflecopter contest before posting or your entry won't be counted. For more information on this process, please see our step-by-step help post and this forum post. Once you log in and enter your member name you will be directed to the next entry option – the blog comment. After that, there are additional options that you can complete for more entries. Be sure to check your spam filters to receive our email notifications. Prizes can take up to 6 weeks to arrive from the publishers. If you are not already a Member, you can join at no cost. The contest ends at midnight on November 19th, 2019.
a Rafflecopter giveaway