This week: Tomato, tomahto – let's find recipes to use them up, cookbook previews, giveaways and more!
July 11, 2020 by Jenny
Is a tomato a vegetable or a fruit? The correct response is that tomatoes are a fruit since they grow on a vine. But in Nix v. Hedden, 149 U.S. 304 (1893) the Supreme Court of the United States decided that under U.S. customs regulations, the tomato should be classified as a vegetable. This case came before the Court as the plaintiff wished to recover duties paid under protest. Back then, imported vegetables were subjected to a 10% tariff upon their arrival in the United States, and imported fruits were not. The plaintiff learned: you import your tomatoes, you pay your taxes.
"Tomatoes have such an outlandish history," said George Ball, the chief executive at the seed company Burpee. "Most people hear it and are bewildered for life." "As Ball explains it, fruits and vegetables differ in one major botanical way. A fruit is technically the seed-bearing structure of a plant – and a vegetable can be virtually any part of the plant we eat."The obscure Supreme Court case that decided tomatoes are vegetables (Washington Post).
Tomatoes are in season from May through October (November through April for the southern hemisphere), with some variation depending on where you live. Those of us who have a green thumb sometimes have an overabundance of these red, juicy fruits. My first year in Colorado, I had tomatoes galore – and played catch-up (pun intended) making and freezing homemade sauces (preserving recipes) and purees before they spoiled. Since then, my green thumb has shriveled up and died as the next year my garden produced zilch. I gave up my planting hopes and dreams (except for herbs) but plan to start again. My husband promises to build me raised planter boxes next year in our new yard (Colorado soil is like red clay and raised boxes filled with soil is the only solution.)
There are over 303,000 recipes (online recipes) using tomatoes in our EYB Library. In the warm weather, cooks welcome recipes that don't require turning the oven on when it is 100 degrees outside. Caprese dishes are an easy way to use tomatoes and not melt in the kitchen. Making salsa and tomato jam are other great options.
Cookbooks devoted to tomatoes:
---
Featured Recently Indexed Cookbooks
---
This Week on our Blog
Since our last roundup, Darcie has written articles entitled: Celebrate World Chocolate Day, When in doubt, throw it out, The interesting history of the Popsicle, Neil Perry announces his retirement, Sur La Table to close nearly half of its stores, and Lockdown bakers get creative. Darcie's weekly food news antipasto is shared every Sunday #foodnews brings up these information-packed posts).
This week I shared a new Quick Bites on food stylist and caterer extraordinaire Denise Vivaldo as well as the second Cookbook Tidbits. Be sure you also enter the Bitter Honey and Falastin cookbook giveaways posted this week as well. Lastly, I wrote a piece about recipe writing entitled: Let's call the whole thing off.
Jenny and the EYB Team
---
Member Photo of the Week
Rainbow salad sushi roll bento from Bento Power: Brilliantly Balanced Lunchbox Recipes by Sara Kiyo Popowa submitted by member Tina_Berlin
Have you uploaded any of your own photos yet? Learn more! Please remember to update your profile with your Instagram name if you would like to be tagged in any photos that we share!
---
Featured Online Recipe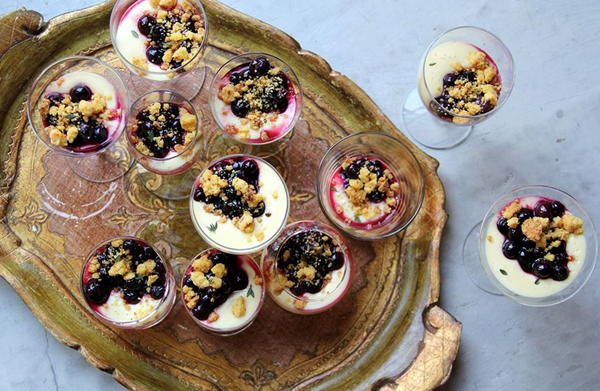 Sweet corn and blueberry trifles from Saveur.com by Yewande Komolafe
---
EYBDigital Previews
Recently we uploaded our 682nd EYBDigital Preview where a selection of full sample pages is available for the following cookbooks.
Learn more about EYBDigital Previews.
Note: To learn why you cannot add all EYBDigital Preview recipes to your Bookshelf, please read this Help page.
---
Cookbook Giveaways
Enter our US/UK/AU/CA giveaway to win one of two copies of The Irish Cookbook by Jp McMahon. Please remember Eat Your Book members receive 30% off Phaidon titles when using the link provided Expires July 23rd, 2020
Enter our US giveaway to win one of three copies of 100 Techniques: Master a Lifetime of Cooking Skills, from Basic to Bucket List by America's Test Kitchen Editors Expires July 29th, 2020
*Please note due to the pandemic, promotions are extended until publishers are back in their offices, and warehouses are available to resume the shipment of books. The cookbook giveaway roundup shares all current giveaways.