This week: GBBO news; free app with lifestyle programming to launch soon; recipes; previews and more
August 19, 2022 by Jenny
Great American Media will be launching a new free app, Great American Community, on September 26th, 2022. The app will introduce viewers to 15 original short-form series, each headlined by well-known lifestyle experts and TV stars.
The 15 exclusive shows will feature "fresh advice and inspirational stories from each host," including fan-favorite actors Danica McKellar, Cameron Mathison, Trevor Donovan, Jill Wagner, Debbie Matenopoulos, Lauren Makk, Kym Douglas, Larissa Wohl, Emily Hutchinson (author of two Creative Cookie Decorating titles), Lawrence Zarian, Shirley Bovshow, Maria Provenzano (author of Everyday Celebrations from Scratch), Jamie Tarence (Southern chef), Mahaila McKellar and Lizzy Mathis. Additional hosts and shows will be announced in the coming months.
---
Attention Canadian members: There is a four author event taking place this Sunday – August 21st at in the scenic Foley Barn in Mulmur, Ontario, Canada. It appears to be sold out but perhaps there is a wait list if anyone is interested. Authors in attendance will be Trish Magwood, Mairlyn Smith, Deirdre Buryk and Joshna Maharaj. Contact Booklore at 519-942-3830 for more information.
---
Today, I read that The Great American Baking Show is slated to return in 2023 on the Roku channel. Ellie Kemper and Zach Cherry have signed on to cohost the series with Prue Leith and Paul Hollywood, judges from the original British version, also taking part in the series.
The above news tempted me to search for updates on The Great British Bake Off. I was able to find an article which stated that the series should begin sometime in September on Channel 4 in the UK. There is, however, no confirmation about the shows being aired a few days later on Netflix as was the practice the last two years. Two holiday specials (not yet seen by US members) are expected to land on Netflix in November/December. And for the first time, Netflix has picked up the rights to the Junior Baking Show. Season 6 (the season that aired in the UK in early 2021) has arrived on Netflix US this week beginning on August 17th, 2022.
The other big news for this upcoming season is that the famous and iconic tent is moving from Down Hall Hotel in Essex where the show has been filmed the last two years. This season's contestants won't be required to stay in a bubble but will be able to return home each week as they had before COVID restrictions.
Lastly, congratulations to Kim-Joy who married her partner this week in Las Vegas!
---
The last week on Eat Your Books
Since our last roundup, Darcie has written these articles:
Darcie's weekly food news antipasto is shared every Sunday and the tag #foodnews brings up these information-packed posts from the most current to the first one. Darcie can be followed on Instagram at darcie_bakes.
Since our last roundup, I have posted the following:
My Instagram is thecookbookjunkies.
Jenny and the EYB Team
---
Recently Indexed Titles
Our team of member and pro indexers are working hard indexing titles, both new and old. Below are just a few highlighted titles. A reminder: newly indexed titles will always show up at the top of the EYB Library and your Bookshelf so you will always know which titles have just been indexed. Recent indexed magazines can be found here. For information on member indexing, please see this roundup with more details.
---
Member Photo of the Week
Spinach salad with tomatoes and melon from Milk Street Vegetables: 250 Bold, Simple Recipes for Every Season (page 39) by Christopher Kimball submitted by member Maefleur
Have you uploaded any of your own photos yet? Learn more! Please remember to update your profile with your Instagram name if you would like to be tagged in any photos that we share!
---
Featured Online Recipe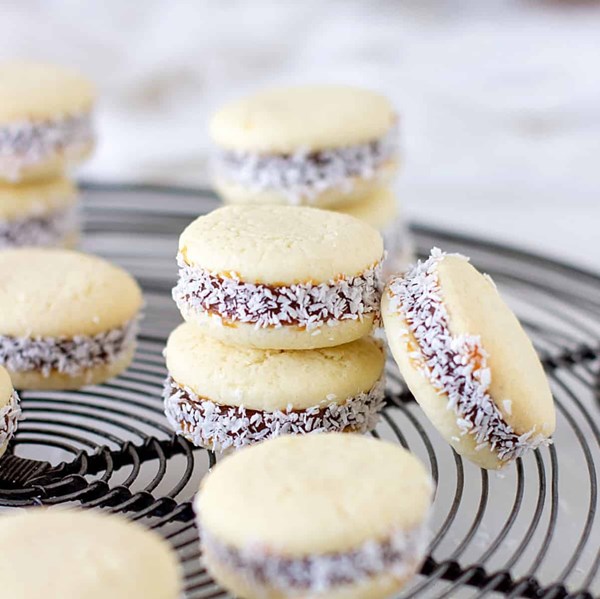 The best alfajores recipe ever from vintagekitchennotes.com
---
EYBDigital Previews
Recently, we uploaded our 1,380th EYBDigital Preview where a selection of full sample pages are available including the titles below.
Learn more about EYBDigital Previews.
Note: To learn why you cannot add all EYBDigital Preview recipes to your Bookshelf, please read this Help page.
---
The cookbook giveaway roundup shares all current giveaways including those open worldwide and to other regions.