Small Batch Bakes & Nordic Ware Sheet Pan Giveaway
September 19, 2022 by Jenny
Enter our worldwide giveaway to win one of four copies of Small Batch Bakes: Baking Cakes, Cookies, Bars and Buns for One to Six People by Edd Kimber. The publisher will provide 3 copies to US/CA winners and EYB will provide one additional copy to a Member in the UK/AU/NZ. Please note that Edd has a special event on September 24th in the UK as well as several book events in the US. Please check our calendar for details.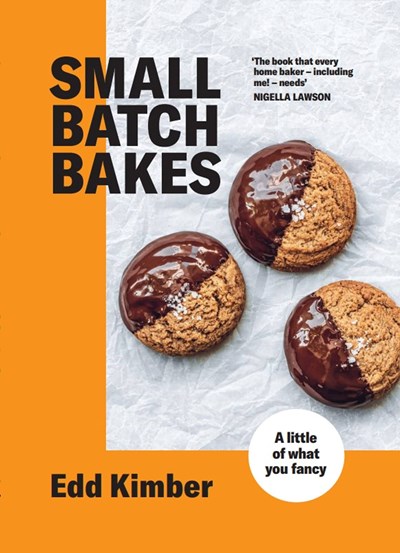 Edd Kimber has been busy the last few years publishing the following new books: One Tin Bakes: Sweet and Simple Traybakes, Pies, Bars and Buns (2020); One Tin Bakes Easy: Foolproof Cakes, Traybakes, Bars and Bites from Gluten-free to Vegan and Beyond (2021) and now his latest Small Batch Bakes: Baking Cakes, Cookies, Bars and Buns for One to Six People. Not to mention his prior titles which have a special place in my collection (as do all my GBBO related cookbooks).
This newest offering delivers recipes for "small" batches of bakes for one to six people. Recipes include Blueberry cream tarts; Individual tarte tatins; and Emergency chocolate chip cookies are some of the examples of pared down desserts for when you just need just a few treats.
For me, it seems extra special when you bring a platter of individual desserts to the table. Easy to transport to a gathering instead of juggling a large unwieldy dessert – a bakery box with an assortment of tiny temptations will ensure that you are the toast of the party. Measurements here are given in weight and volume.
Special thanks to Kyle Books for providing two recipes from this title for our Members to enjoy.
Carrot cake sandwich cookies
Add this recipe to your Bookshelf (click the blue +Bookshelf button)
Makes 6
If you're a fan of a traditional carrot cake with plenty of cream cheese frosting, this recipe is for you – a more portable version of the timeless favourite. The cookies have all the classic flavours of the cake, but the texture is a cross between a cookie and a muffin top, perfect for sandwiching together with some cream cheese frosting.
115g (4oz/1 stick) unsalted butter, at room temperature
75g (2¾oz/⅓ cup + 1 teaspoon) caster (superfine or granulated) sugar
75g (2¾oz/⅓ cup) light brown sugar
1 large egg
1 teaspoon vanilla bean paste
175g (6oz/1⅓ cups + 1 tablespoon) plain (all-purpose) flour
½ teaspoon bicarbonate of soda (baking soda)
½ teaspoon baking powder
¼ teaspoon fine sea salt
½ teaspoon ground cinnamon
50g (1¾oz/⅔ cup) rolled oats
50g (1¾oz/heaped ⅓ cup) raisins
85g (3oz/1 cup) grated carrot
For the frosting
20g (¾oz/1¾ tablespoons) unsalted butter, at room temperature
35g (1¼oz/⅛ cup + 1 teaspoon) cream cheese, at room temperature
100g (3½oz/¾ cup + 1 tablespoon) icing (powdered) sugar
¼ teaspoon vanilla bean paste
Pinch of fine sea salt
Line 2 baking trays (cookie sheets) with parchment paper. Using an electric mixer, beat the butter and sugars together in a large bowl until light and fluffy, about 5 minutes. Add the egg and vanilla and beat briefly until fully combined. In a separate bowl, whisk together the flour, bicarbonate of soda, baking powder, salt and cinnamon. Add the oats and raisins and mix briefly to combine. Add this dry mixture to the butter mixture, stirring with a spatula until a dough forms. Add the carrot and mix briefly to distribute.

Using a 60ml (2¼fl oz/¼ cup) mechanical ice-cream scoop or two tablespoons, place 6 scoops of the dough on each prepared tray, spacing them well apart, and refrigerate for 1 hour.
Preheat the oven to 180ºC (160ºC Fan) 350ºF, Gas Mark 4.
Bake the cookies for 17–18 minutes, or until golden brown around the edges and no longer looking wet in the centre. Set aside for 10 minutes, before carefully transferring to a wire rack to cool completely.
To make the frosting, beat the butter and cream cheese together in a bowl until smooth. Add the icing sugar, vanilla and salt and beat until light and fluffy, about 5 minutes. Spoon the frosting onto the base of half the cookies and spread to cover. Sandwich together with the remaining cookies.

If stored in a sealed container, these will keep for 2–3 days.
---
Lemon poppy seed meringue tarts
Add this recipe to your Bookshelf (click the blue +Bookshelf button)
Makes 4
Lemon poppy seed muffins are a true classic, so why not use that ingredient combo in the form of lemon meringue tarts? Poppy seeds are incorporated into the flaky pastry, and the filling is my homemade lemon curd, which is a thicker and creamier version than shop-bought, and perfect as a filling for a tart or cake. The final touch is a topping of Swiss meringue.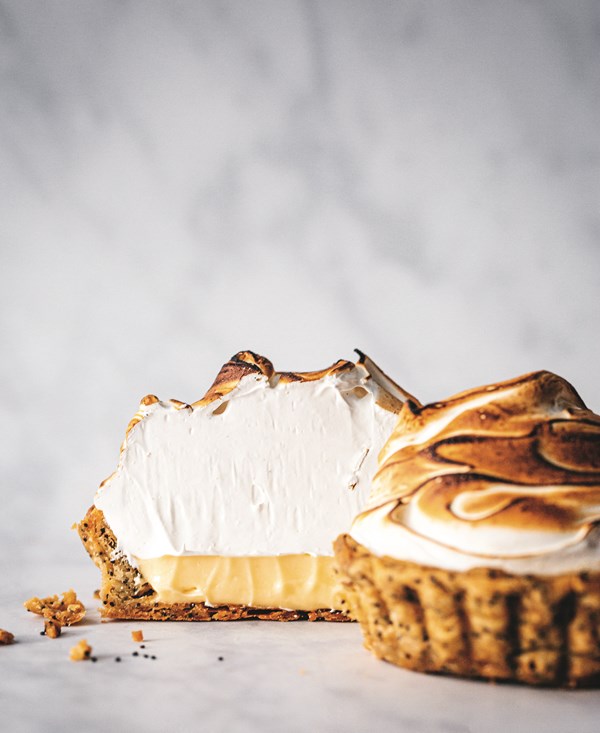 ½ batch Flaky Pastry (see page 154 in book – recipe below), adding 2 tablespoons poppy seeds just before the water
Flour, for dusting
1 egg yolk, beaten (optional)
1 batch Lemon Curd (see page 162 in book – recipe below)
For the Swiss meringue topping
1 large egg white
75g (2¾oz/½ cup + 2 tablespoons) caster (superfine or granulated) sugar
1 teaspoon vanilla bean paste
Cut the pastry into 4 equal slices. Lightly flour a work surface and roll each piece of pastry into a circle about 3mm (⅛in) thick. Use to line 4 x 10cm (4in) loose-bottomed tart tins, trimming off any excess. Refrigerate for at least 1 hour.
Preheat the oven to 200ºC (180ºC Fan) 400ºF, Gas Mark 6.
Line each pastry case with a piece of crumpled parchment paper, fill with baking beans or rice and place on a baking tray (cookie sheet). Bake for about 20 minutes, until the edges are lightly browned. Remove the parchment and beans, then bake for a further 5 minutes, or until the inside of the pastry is golden. To ensure it remains crisp after filling, you can brush beaten egg yolk inside the tart cases and bake them for a minute or two more to create a barrier that helps prevent a soggy base. Set aside until cool.

Spoon the lemon curd into the pastry cases and spread evenly. Refrigerate while you prepare the topping.
Place the egg white and sugar in a heatproof bowl set over a pan of simmering water and whisk lightly until the sugar has dissolved and the mixture is hot to the touch. Take the bowl off the heat and, using an electric mixer, whisk on high speed for 3–5 minutes, or until the mixture holds stiff peaks. Add the vanilla and whisk briefly to combine. Spoon the meringue onto the tarts and spread to cover the lemon curd. Briefly brown the meringue with a blowtorch or under a hot grill (broiler). Serve immediately.
If preparing in advance, store the baked pastry cases in a sealed container for up to 2 days. Add the filling and topping shortly before serving.
Flaky pastry
Add this recipe to your Bookshelf (click the blue +Bookshelf button)
Makes enough for 8 small tarts
When I want a shatteringly flaky pastry, this is the recipe I use. The vodka it includes is optional, but it does help to hydrate the dough while developing a little less gluten than when using all water. To ensure it has that characteristic flakiness, it's important to keep the butter in large pieces. If you want to make enough for just four tarts (the number most used in this book), you can halve the recipe, but it is easier to make the full batch and keep the remainder for another use.
300g (10½oz/2⅓ cups + 1 tablespoon) plain (all-purpose) flour, plus extra for dusting 1 teaspoon fine sea salt
2 tablespoons caster (superfine or granulated) sugar
250g (9oz/2 sticks + 1½ tablespoons) unsalted butter, diced into 1cm (½in) cubes and chilled
6 tablespoons ice-cold water
2 tablespoons vodka (optional)
Place the flour, salt and sugar in a large bowl and stir to combine. Add the butter and toss to coat, then use your fingertips to press it into flat pieces. Place the bowl in the freezer for 15 minutes.
Mix the ice-cold water with the vodka (or 2 extra tablespoons water if you don't want to use the alcohol). Drizzle some of the liquid into the chilled ingredients, tossing with your hands to distribute. Repeat with the remaining liquid, until a dough starts to form. Use your hands to gently bring the dough together in a ball. Press it into a flat rectangle, wrap in clingfilm (plastic wrap and refrigerate for 30 minutes.
Lightly flour a work surface and roll the pastry into a rectangle about 15 x 45cm (6 x 18in). Cut into 4 equal pieces, stack them on top of each other and press or roll into a Fl t rectangle again. Wrap in clingfish and refrigerate for another 30 minutes.
Reflour the work surface and again roll the pastry into 15 x 45cm (6 x 18in) rectangle. Roll it up like a Swiss roll, wrap in clingfilm and refrigerate overnight, or for at least 1 hour.
The pastry will keep in the refrigerator for 2–3 days, or can be frozen for up to a month.
NOTE: If you want a richer, deeper flavour to the pastry, you can replace a third of the plain (all-purpose) flour with another type, such as wholemeal (wholewheat) or rye.
Lemon Curd
Add this recipe to your Bookshelf (click the blue +Bookshelf button)
Makes 1 x 400g (14 oz) jar
A world away from standard lemon curd, this is an incredibly rich and creamy curd made with a slightly unusual method. Inspired by French pastry chefs, such as Pierre Hermé and Jacques Genin, this recipe is brilliant both as a lemon curd but also as a tart filling because, once chilled, it becomes thick enough to hold its shape.
75g (2¾oz/¼ cup + 2 tablespoons) caster (superfine or granulated) sugar
Zest of 2 lemons
75ml (2¾fl oz/¼ cup + 1 tablespoon) lemon juice
1 large egg, plus 1 large yolk
115g (4oz/1 stick) unsalted butter, diced and at room temperature
Place the sugar and lemon zest in a heatproof bowl and rub together with your fingertips until the mixture feels like damp sand and is intensely fragrant. Add the lemon juice, egg and egg yolk and stir together with a whisk.
You want to keep everything moving, but without whisking in too much air. Transfer this mixture to a small saucepan over a low–medium heat and stir constantly until it has thickened and reached 75–80ºC (167–176ºF) on an instant-read thermometer. Pour into a measuring jug and set aside for 15 minutes.
Add the butter a little at a time, using a stick blender to combine. This method ensures it is emulsified rather than simply melted into the curd, and gives a thick, luscious texture. Spoon the finished curd into a sterilized jar (see below), seal, label and date, and refrigerate until needed. If unopened, it will keep for 2 weeks.
TIP: To sterilize a jam jar, preheat the oven to 140ºC (120ºC Fan) 275ºF, Gas Mark 1. Wash the jar and lid in hot, soapy water and rinse well. Place the jar on a baking tray (cookie sheet) in the oven for about 10 minutes, until completely dry. Place the lid in a bowl of boiling water for a few minutes, then allow to dry.
Update September 29th: The publisher has arranged for three winners (from either the US or CA) to also win one of Nordic Ware's Naturals® Eighth Sheet Pan
As soon as you use an 1/8 sheet, you'll realize you need several more to cover all of the uses you dream up for it! This size of baking sheet is as versatile as they come, fitting inside both countertop/compact ovens as well as standard ovens. It even fits inside of air fryers with shelves. Beyond baking or broiling, use your 1/8 sheet for ingredient prep, transfer of food to and from the grill with marinade or sauce, for breading foods prior to frying, and even for serving casual meals at a picnic or bbq. Made of natural uncoated aluminum for a lifetime of durability and ultra-even baking results. The top-rated Naturals®Bakeware collection is made of pure aluminum for superior heat conductivity and produces consistent evenly browned baked goods every time. These premium pans have a lifetime durability and will never rust. Encapsulated galvanized steel rims prevent warping.
---
Special thanks to the publisher for providing three copies of this title in our promotion. Entry options include answering the following question in the comments section of this blog post.
Which recipe in the index would you like to try first?
Please note that you must be logged into the Rafflecopter contest before posting or your entry won't be counted. For more information on this process, please see our step-by-step help post. Once you log in and enter your member name you will be directed to the next entry option – the blog comment. After that, there are additional options that you can complete for more entries. Be sure to check your spam filters to receive our email notifications. Prizes can take up to 6 weeks to arrive from the publishers. If you are not already a Member, you can join at no cost. The contest ends at midnight on November 19th, 2022.
a Rafflecopter giveaway