May 2016 cookbook roundup
May 24, 2016 by Jane
Every month Jane and Fiona wade through hundreds of cookbooks, selecting and reviewing all the best new releases of U.S., Canada, U.K., Ireland, Australia, and New Zealand cookbooks. The only thing left for you to do is to add them to your Bookshelf.
Last month's biggest trend – grilling and barbecue – continues its strong showing in May. Healthy eating books from nutritionists and bloggers also pop up frequently this month. There's an intriguing uptick in technique and "basic" books, and for the first time in a long time baking books don't dominate any country's list. Quick meals round out the May trends.

USA
Project Smoke by Steven Raichlen: Esquire magazine calls Raichlen America's "master griller". Here he shares his seven steps to smoking nirvana and gives an in-depth description of the various smokers; the essential brines, rubs, marinades, and barbecue sauces; and a complete guide to fuel, including how each type of wood subtly seasons a dish. Raichlen is on tour in support of the book; find dates and locations on the World Calendar of Cookbook Events.
Ruhlman's How to Sauté by Michael Ruhlman: The third book in Ruhlman's "How to" series focuses on how to cook on your stovetop, featuring instruction plus recipes. The book also provides advice about the tools you need (and which ones you don't) as well as tips on stocking your pantry for the greatest efficiency, flexibility, and flavor.
Peace & Parsnips by Lee Watson: Chef Lee Watson was once, in his own words, "the mightiest nose-to-tail carnivore of them all." But four years ago, he went completely vegan and has become an evangelist for a plant-based diet. Peace & Parsnips captures Watson's creative recipes inspired by locations around the globe. Watch the World Calendar of Cookbook Events for his upcoming tour. This book was published in the UK last year.
My French Family Table by Béatrice Peltre: Many EYB Members have Béatrice's blog La Tartine Gourmande on their Bookshelf. Now her bright photography, impeccable styling, and sweet storytelling can be found in a new cookbook. Béatrice's relaxed, modern approach to classic French cooking meets the challenge of creating healthy meals for the whole family. Watch for a giveaway for My French Family Table to be announced soon.
Food & Beer by Daniel Burns, Jeppe Jarnit-Bjergsø and Joshua David Stein: The debut book by Danish gypsy brewer Jarnit-Bjergsø and Canadian chef Burns elevates beer to the level of wine in fine dining. This book is also out in the UK this month, and it qualifies for the generous Phaidon discount. You can find details on the duo's tour on the Calendar of Events.
Num Pang: Bold Recipes from New York City's Favorite Sandwich Shop by Ratha Chaupoly & Ben Daitz with Raquel Pelzel: In a city with so many great sandwich joints, Num Pang Sandwich Shop is a standout, receiving high praise from numerous sources including Bon Appétit and Zagat. Num Pang sandwiches are similar to Vietnamese banh mi, but what makes them so special is the inventive fillings, ranging from Glazed Five-Spice Pork Belly to Seared Coconut Tiger Shrimp to Hoisin Meatballs.
Eating Well Made Easy by Lorraine Pascale: Bestselling TV chef Lorraine Pascale is famous for putting together delicious recipes that are simple and easy to make, and now she's gone one step further: creating tasty dishes that are not only perfect for busy lifestyles, but are nutritious, too. This is the US edition of a book published in UK in August 2015.
Plated: Weeknight Dinners, Weekend Feasts, and Everything in Between by Elana Karp & Suzanne Dumaine: The inventive, repertoire-building recipes in Plated will help you cook and eat food you love without having to think so hard about it. Each recipe is rooted in a core technique, but it can also be customized according to peak produce and just what you're in the mood for. The book features step-by-step prep instructions and menu ideas to take the stress out of cooking.
C
ooking With Loula by Alexandra Stratou: In Cooking with Loula, Alexandra Stratou invites readers into her Greek family's kitchen, revealing their annual traditions and bringing their recipes to life-with touching remembrances of Kyria Loula (Kyria means "Mrs." in Greek), the woman who cooked for three generations of Stratou's family. The book is organized the way real home cooks think, with chapters for simple, healthful weekday dishes; more languorous Sunday meals; and traditional holiday fare.
Meathead: The Science of Great Barbecue and Grilling by Meathead Goldwyn: The founder and editor of the world's most popular BBQ and grilling website, AmazingRibs.com, "Meathead" Goldwyn applies the latest research to backyard cooking. He shatters common barbecue myths and explains why dry brining is better than wet brining, how marinades really work, why rubs shouldn't have salt in them, the importance of digital thermometers, how salt penetrates but spices don't, and much more. You can catch "Meathead" on tour; visit the Calendar of Events for dates and locations.
Weber's New American Barbecue by Jamie Purviance: Through stories and essays, hundreds of photos, crystal-clear techniques, and (of course) many recipes, Weber's New American Barbecue™ celebrates what's happening at the grill today. From chefs creating new classics to everyday backyard heroes melding flavors to pitmasters setting new standards of excellence at competitions, this book explores the delicious evolution of a true American pastime.
Whole World Vegetarian by Marie Simmons: James Beard Award- and IACP Award-winning author Marie Simmons draws inspiration from other cultures in this far-ranging cookbook. Recipes ranging from a dip of Iranian yogurt, spinach, and caramelized onions garnished with toasted walnuts to the increasingly-popular shakshuka all become accessible and inviting under Simmons' guidance. You can find Marie's book tour information on the Calendar of Events.
Dried & True by Sara Dickerman: In this book are the secrets of creating who-knew treats: all kinds of jerky, fruit leathers, savory vegetable crisps, flavor-packed powders, and perfect melt-in-your-mouth meringues. Recipes include ways to incorporate your dried creations in your baking, cooking, and even cocktails.
The New England Seafood Markets Cookbook by Mike Urban: From New Haven to Bar Harbor, the New England coast is home to some of the best lobster pounds and fish markets in the world, and this cookbook features delicious recipes from all around the region. The recipes are supplemented with profiles of more than 30 of the top seafood markets – their histories, their owners, and their specialties.
Heartland by Lenny Russo: Lenny Russo, chef at Heartland in St. Paul, Minnesota and a pioneer in the local field-to-fork movement, was inspired by the lakes, fields, farms and orchards of his adopted homeland. His restaurant's recipes showcase the fantastic bounty of America's Midwest.
Melissa's Southern Cookbook by Melissa Sperka: Melissa Sperka learned to cook, like many people, from her mother and her grandmothers. She's passing these values on to her own children, and to the many readers of her blog, Melissa's Southern Style Kitchen. She brings traditional family favorites but also adds her own spin to the recipes.
Claudia's Cocina by Claudia Sandoval: This cookbook celebrates the food of the MasterChef (USA) Season 6 winner. Claudia brought with her a cooking background strongly influenced by her family's Mexican roots, as well as the seafood restaurant her grandparents owned when she was a child. Throughout the show she demonstrated a bright, versatile range of flavors and always made family the center of her dishes. Claudia is on tour supporting the book; check out the Calendar of Events for details.
Korean Food Made Simple by Judy Joo: In Korean Food Made Simple, Judy Joo, host of the Cooking Channel's show of the same name and Food Network regular, brings Korean food to the masses. In addition to well-loved dishes like kimchi and bibimbap, the book includes chapters devoted to sauces, desserts, and drinks as well as a list for stocking a Korean pantry.
Eat It Up by Sherri Brooks Vinton: Don't toss those leftovers or pitch your beet greens! Sherri Brooks Vinton helps you make the most out of the food you bring home. These 150 delicious recipes mine the treasure in your kitchen – the fronds from your carrots, leaves from your cauliflower, bones from Sunday's roast, even the last lick of jam in the jar are put to good, tasty use.
Food Swap by Emily Paster: Part cookbook, part how-to guide, Food Swap features dozens of recipes for artisanal items that will be coveted at food swaps and adored as gifts, including preserves, baked goods, granolas, cheeses, pestos, roasted nuts, flavored salts, and specialty spices. Plus you'll find creative packaging ideas and tips for creating a food swap in your community. You can learn more from Emily in person on her book tour.
Portland Farmers Market Cookbook by Ellen Jackson: The Portland Farmers Market is a year-round farmers market consistently named among North America's Top Ten. This cookbook is a tribute to the farmers, chefs and shoppers, who embrace their world-class market like no other. Ellen is on tour promoting the book; check the Calendar of Events for tour dates.
Infusing Flavors by Erin Coopey: This cookbook features recipes to infuse "mind-blowing" flavors into teas, bitters, liqueurs, aguas frescas, vinegars, oils, gastriques, shrubs, ice creams, and more. Infusing Flavors helps you identify which herbs, fruits, flowers, vegetables, and even seeds can be prepared and infused into all-natural food and drink recipes. Watch the Calendar of Events for upcoming tour dates.
The Naked Cookbook by Tess Ward: In this USA edition of The Naked Diet (published last year in the UK), author Tess Ward shares her personal prescription for renewal: a collection of deliciously simple yet flavorful recipes composed of the most nutrient-rich and simple foods.
The Starving Artist Cookbook by Sara Zin: Aspiring artist Sara Zin turned 30 and hit a wall. She was hungry – starving – to find meaning in her art. Plus, she really wanted a home-cooked meal. The problem was that Zin didn't know how to cook, so she decided to learn how. And, as a painter, it was only logical that she paint every dish once it was prepared. This cookbook is probably a bit more suited to looking than cooking.
Chelsea Market Makers by Michael Phillips and Cree LeFavour: Learn how to make the iconic dishes of NYC's Chelsea Market and witness the craft of the world's premier vendors with this behind-the-scenes look at America's leading food hall. Chelsea Market Makers collects the expertise of the chefs, bakers, butchers, cheese mongers, and more-and presents a rare opportunity to learn their renowned techniques.
Food and the City by Ina Yalof: Another behind-the-scenes look at the New York food scene, as told through the voices of the chefs, restaurateurs, waiters, and street vendors themselves. You'll hear from people as diverse as pastry chef Dominique Ansel, restaurateur Eddie Schoenfield, and David Fox, third-generation owner of Fox's U-bet syrup.
The All New Ball Book of Canning & Preserving: From one of the most trusted names in preserving and organized by technique, The All New Ball Book of Canning and Preserving covers water bath and pressure canning, pickling, fermenting, freezing, dehydrating, and smoking. This is not your grandmother's Ball Book – recipes include Asian Pear Kimchi and homemade Kombucha.
Double Cup Love by Eddie Huang: From the author of Fresh Off the Boat, now a hit ABC sitcom, comes a hilarious and fiercely original story of culture, family,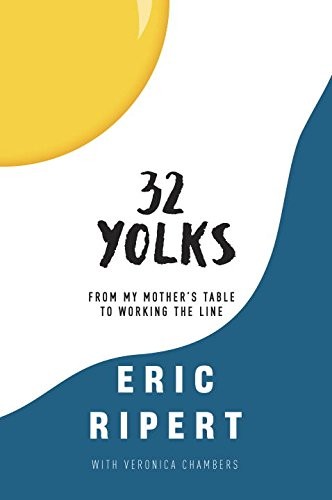 love, and red-cooked pork. Facing an existential crisis, Eddie flew to China with his two brothers and a mission: to set up shop to see if his food stood up to Chinese palates-and to immerse himself in the culture to see if his life made sense in China.
32 Yolks: From My Mother's Table to Working the Line by Eric Ripert. If you enjoyed Jacques Pépin's The Apprentice and Marcus Samuelsson's Yes, Chef, you will likely find 32 Yolks appealing. This books explores Ripert's delicate relationship with his mother, how they bonded in the kitchen, and how he worked his way up in some of the most celebrated and demanding restaurants in Paris,. Find out details of Ripert's book tour on the Calendar of Events.
CANADA
Out of the Orchard by Julie van Rosendaal: British Columbia's famed Okanagan Valley boasts rich, fertile soil, endless days of summer sun, and a pristine lake fed by pure mountain streams. This beautiful cookbook by Canadian bestselling author Julie Van Rosendaal is a collection of the best, triple-tested recipes for the annual bounty of Okanagan fruit.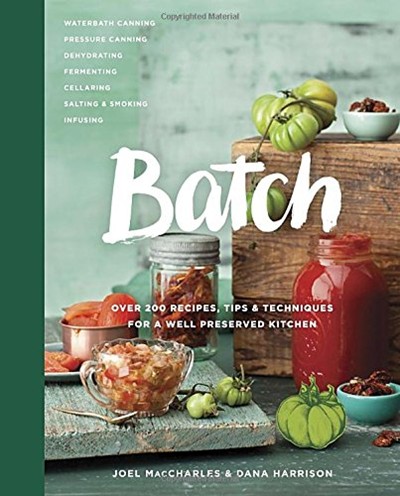 Batch: Over 200 Recipes, Tips and Techniques for a Well Preserved Kitchen by Joel McCharles and Dana Harrison: Joel and Dana's journey into preserving began with an innocent lesson in making jam. Almost a decade later, WellPreserved.ca is an extraordinary resource for both beginners and experts alike. Their much-anticipated first cookbook showcases seven different preserving techniques-waterbath canning, pressure canning, dehydrating, fermenting, cellaring, salting & smoking, and infusing-and takes readers on a trip to the market in twenty-five ingredients. Find details on the duo's book tour in the Calendar of Events, and watch for a giveaway to be posted soon.
UK
Sirocco by Sabrina Ghayour: The eagerly awaited follow-up to top 10 bestseller Persiana, Sirocco will bring tastes of the East to Western-style dishes in a collection of delicious and accessible recipes. With an emphasis on simple ingredients and strong flavours, Ghayour will bring her modern inspirational touch to a variety of dishes ranging from classics and comfort food to spectacular salads and sweet treats. This book is also out in the USA this month.
Heat: Cooking With Chillies by Kay Plunkett-Hogge: From humble origins in a tucked-away corner of Latin America, the chilli pepper has found its way into the food of more than half the world. Intrepid food writer Kay Plunkett-Hogge is on its trail, following the chilli from the Americas to Europe, and along the spice routes to the Middle East, India, China and beyond, with recipes from around the world.

Low & Slow: How to Cook Meat by Neil Rankin: As the title suggests, this book is about 'slow cooking', but not using the slow cooker or some big outdoor smoker that most people just don't have. Rather, Low & Slow focuses on cooking using anything from frying pans, ovens, pots, grills and affordable outdoor barbecues. It's also not just about tough cuts of meat but also steaks, roasts, burgers and other items you might not think about cooking at low temperatures,

Eric Lanlard's Afternoon Tea by Eric Lanlard: Master patissier Eric Lanlard, author of Cake Boy and other sweet-focused cookbooks, returns with another book crammed with deliciously achievable recipes, this time to teach you the skills and tricks to making the perfect afternoon tea.

The Weekend Baker by Paul Hollywood: Containing both sweet and savoury recipes inspired by cities from around the world including Paris, Copenhagen, Miami, New York, London and Naples, Britain's favourite baker takes classic bakes and gives them his own twist. See details of Paul's book tour in the World Calendar of Cookbook Events.
Chicken and Rice by Shu Han Lee: Shu moved to London from Singapore as a student. Homesick and hungry, she started teaching herself to cook the food she'd grown up with – Singaporean and Malaysian dishes, with a strong Chinese influence from her Hokkien Chinese mother. The book highlights these recipes, from her mother's sesame oil chicken to ox cheek and venison rendang. Although these are Southeast Asian recipes, Shu's seasonal approach to the very best of UK produce is reflected throughout this book.

Postcards from Greece by Rebecca Seal: For all those who love or want to discover Greek food, Rebecca Seal shares her favourite recipes from her extensive travels in the country and celebrates Greece's regional specialities. Rebecca captures the very essence of the islands, using fresh produce and classic Greek flavors in remarkable combinations, all accompanied by beautiful photographs.

The Nordic Kitchen by Claus Meyer: In this book, Claus Meyer brings the ethos that built Noma into the world's best restaurant into the home with easy-going, accessible dishes that will fit seamlessly into family life. The book is divided into four seasonal chapters so that you can get the most from the food and flavors in season. There are also features on food from the wild, including chanterelles, dandelions and blackberries.

Simply Vegetables by Sybil Kapoor: This beautiful vegetable book offers simple, modern recipes, and encourage readers to cook vegetables when they are at their very best and come into season-especially useful if they grow their own. Each of the 49 featured vegetables is accompanied by practical information for preparation and culinary notes with options for different ways of cooking.

Good Good Food by Sarah Raven: Sarah is not only an inspirational cook, but also a qualified doctor. Here she brings together her unique talents to offer a broad canon of recipes, sharing her medical knowledge to explain exactly how and why certain foods help protect your body and give you the best possible chance of a longer, healthier life.

Petal, Leaf, Seed by Lia Leendertz: This ambitious book shows you how to unlock the hidden larder of tastes and textures in your garden. Divided into three sections, each of which has its own growing guide, Petal covers spring, summer, herb and vegetable flowers; Leaf covers annual and perennial herbs, exotic and fruit leaves; Seed covers nuts, and herb, vegetable and flower seeds.

Chef on a Diet by Sophie Mitchell: What could be more difficult than to be on a diet when you work with food? In her new book, executive chef Sophie Michell reveals the recipes she herself has used to lose weight despite spending all day, every day, surrounded by food. Sophie has developed this diet with an emphasis on flavour, so you'll never feel like you're missing out.
Livia's Kitchen by Olivia Wollenberg: Livia's Kitchen combats the notion that in order to eat healthily you have to stop enjoying the sweet treats and indulgent flavours that you love. By replacing traditional baking ingredients such as flour and butter with natural alternatives like coconut oil, nuts, dates and superfood powders, this innovative cookbook offers healthier options for all of your favourite sweets and desserts.

The Kitchen Shelf by Eve O'Sullivan and Rosie Reynolds: The premise of this book is that with a perfectly stocked kitchen shelf, you just need to pick up two fresh ingredients and you can make a delicious meal. The Kitchen Shelf prescribes 30 shelf essentials of which there are 10 "key" essentials: A can of chickpeas, a bag of rice, a can of tomatoes, a bag of flour, a jar of peanut butter, a box of eggs, a bag of pasta, a can of coconut milk, a bar of chocolate, and a bottle of milk.
Italian Cooking School: Ice Cream by The Silver Spoon Kitchen: Italian Cooking School: Ice Cream is the latest addition to this fail-proof Italian cookbook series. Step-by-step instructions and photography guide readers through the preparation process and ensure success every time. Chapters cover ice creams, sorbets, frozen desserts and chilled desserts. The book qualifies for the 35% Phaidon discount, available worldwide. Ice Cream will be published outside the UK on June 4.
Italian Cooking School: Vegetables by The Silver Spoon Kitchen: This month finds two books in the series. This second tome includes a variety of vegetable preparation methods, covering salads, steaming, boiling and stewing, grilling, frying, roasting and baking. The book also qualifies for the 35% Phaidon discount, and Vegetables will also be released outside the UK on June 4.
Hairy Dieters: Fast Food by Si King & Dave Myer: King and Myers, aka the Hairy Bikers, have been entertaining and feeding Britain with their unique blend of delicious recipes, cheeky humour and motorbike enthusiasm for years now. Following on from their multi-million selling diet books, the duo is back with more delicious low-cal recipes, that can all be made under 30 minutes.

The Foodie Teen by Alessandra Peters: The Foodie Teen offers nutritious, delicious meals from the inspirational, award-winning teenage blogger Alessandra Peters. Alessandra is on a mission to inspire others to embrace a healthy lifestyle. Her approach to cooking centres around eating unprocessed, real ingredients and her recipes are for everyone.

Easy. Tasty. Healthy. by Barbara Cousins: Nutritional Therapist Barbara Cousin's latest book and is packed full of up-to-the-minute recipes put together in a completely new format, with sound advice on all the latest information on nutrition. The recipes are quick and simple to prepare using easy to obtain ingredients whilst creating food that is both health promoting and delicious.
In the Kitchen by Simmone Logue: Logue and her kitchen team ice hundreds of cakes, bake tens of thousands of pies and stir more than a thousand casseroles of beef bourguignon a week. But this consummate professional hasn't lost any of the passion or forgotten any of the secrets that made her a great home cook in the first place. Every recipe in this collection has a special place in Simmone's heart and marks a milestone on her journey. In the Kitchen was published in Australia in March.

Real Food Projects by Kate Walsh: For too long we've been sold the idea that making our own food is difficult, time-consuming and not worth the effort. But self-taught cook and sustainable food advocate Kate Walsh knows that learning how to cook a few kitchen staples from scratch, using fresh local and seasonal produce, is the best way to improve your health and that of our food system. Real Food Projects is your handbook to 30 essential cooking skills like making sausage and churning butter. This book was published in Australia last month.

Eat the Week by Anna Barnett: Another April Australian release, Eat the Week is inspired by our different moods as we navigate the week. There's everything from weekend brunches and comforting dishes packed full of carbs to nutritious salads and zesty Asian noodles for when you want something lighter, plus cheats, insider tricks and imaginative ways with leftovers. On Mondays it's all about simple dishes, healthy-eating resolutions, minimum fuss and robust flavours; on Saturdays, when you have more time to shop and cook, things get a bit more extravagant.
Quick. Easy. Healthy: Good Food Every Day by Callum Hann & Themis Chryssidis: This book's title is very similar to the Barbara Cousin's book, but with an emphasis on quick. Callum and Themis, drawing on the most popular course in their cooking school Sprout, present over 70 simple, quick and achievable recipes for fresh, healthy, flavoursome food. The book is divided into four seasonal chapters, each with a collection of recipes using readily available ingredients in season, with suggestions for substitutes. This book was published in Australia in March.
Brew: The Foolproof Guide to Making World-Class Beer at Home by James Morton: Making good beer at home is easy, and oh so cheap. Brew takes the novice beer-enthusiast by the hand and talks you through the process. You don't need to go out and buy loads of equipment; with a plastic bucket or two, you can make great craft beer and customize it to your own tastes. Brew features recipes for a variety of beer styles.

AUSTRALIA and NEW ZEALAND

The Truffle Cookbook by Rodney Dunn: This is a great book for anyone wanting to know more about the growing truffle industry in Australia. Rodney Dunn gives practical advice on buying, storing and (most importantly) cooking with truffles – over 60 recipes are included. He firmly believes there is no such thing as too much truffle.
The Healthy Model Cookbook by Sarah Todd: Another cookbook from a MasterChef contestant, this time from a high-end fashion model. 100 simple, fast, healthy recipes.
Australia Cooks by Kelli Brett: Kelli has recently taken up the post of editor of Cuisine NZ, but before she left she created this beautiful celebration of the flavours of Australia. Featuring the best recipes sent in by ABC Local Radio listeners, as well as stories and recipes from chefs who have built their businesses on championing home-grown produce and provedores.
Cooked: Food for Friends by Various Authors: A compilation of recipes from 47 authors from the Hardie Grant stable, including Greg and Lucy Malouf, Luke Nguyen, Skye Gyngell, Antonio Carluccio, Paul Wilson, Mark Best, Matt Wilkinson and Jane Kennedy. The book include eight chapters of ideas for: backyard grill, impromptu dinners, brunch, picnics, drinks parties, high tea, and the ultimate Sunday roast.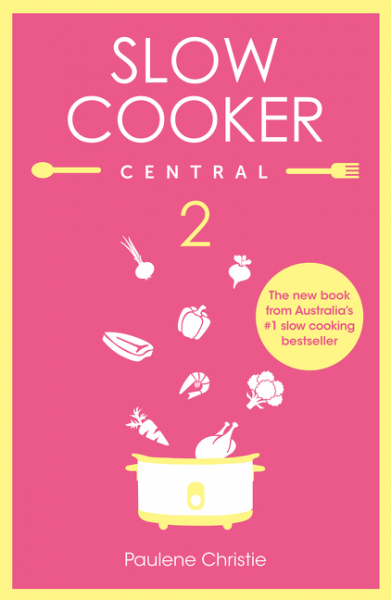 Slow Cooker Central 2 by Pauline Christie: From the hugely popular online community Slow Cooker Central, a second book with over 270 recipes that should keep you going through the winter. Organised into 14 chapters covering casseroles, curries, soups and roasts and even cakes, fudge and play dough!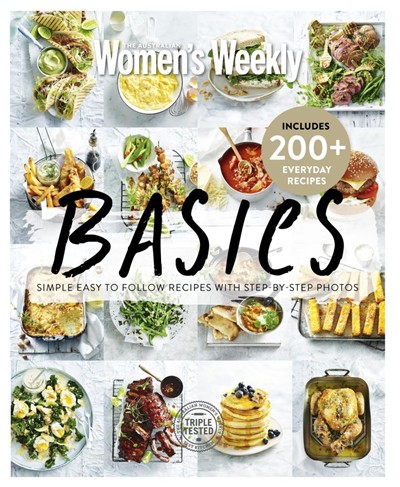 Basics: Simple Easy to Follow Recipes with Step-by-Step Photos by Australian Women's Weekly: The theme is to help everyone prepare and cook great meals quickly and easily, by knowing some simple time-saving techniques.

Seen anything interesting?
Let us know
& we'll share it!