The last two weeks: James Beard announcement, Modernist Pizza podcast, updated events, recipes and more
November 5, 2021 by Jenny
Hello members. We skipped the roundup last week due to the monthly newsletter's publication, if you missed the newsletter in your inbox, you can always find each issue in the newsletter archive.
This week I have a big announcement to share with you: I have been honored with a four year appointment to the James Beard Cookbook Award Committee. In the past, I have been a judge for both the James Beard and IACP cookbook awards, however this role will encompass far more.
As Darcie reported in September, last year the committee undertook an audit of its policies and procedures. Part of my duties will be upholding the James Beard Awards Mission:
THE JAMES BEARD AWARDS MISSION is to recognize exceptional talent and achievement in the culinary arts, hospitality, media, and broader food system, as well as a demonstrated commitment to racial and gender equity, community, sustainability, and a culture where all can thrive.
While a great deal of work will be involved, I am thrilled to be a part of this team. In addition to other duties, I will oversee my own category each year (I cannot share which categories those will be). Our call for entries is officially open until Nov 30th, 2021. Authors, chefs, and publishers, please be aware of that deadline. Click here to submit a Media Awards entry or Leadership and Restaurant and Chef Awards recommendation.
---
This week, I shared a review and giveaway for Modernist Pizza. Right after I published that promotion, the Modernist Pizza podcast was announced. The Modernist Pizza podcast will record the science, history, and culture of pizza, all told through in-depth interviews with the book's coauthors and the people who are shaping the future of the world's most popular food. To listen to the first episode: History, Part I click here.
---
The last two weeks on the blog
Since our last roundup, Darcie has written these articles:
Darcie's weekly food news antipasto is shared every Sunday and the tag #foodnews brings up these information-packed posts from the most current to the first one. Darcie can be followed on Instagram at darcie_bakes.
Darcie, Jane and I all contribute to our GBBO recap posts. All GBBO related posts are tagged #gbbo2021.
Since our last roundup, I have posted the following:
Our cookbook deals post is frequently updated (note the new permanent link) so check the blog for new sales (the ICYMI post explains the post in detail). My Instagram is thecookbookjunkies.
Please be sure to check our calendar for updated events including a special signing on Dec 2nd at The White House Historical Association, more dates added for Book Larder, Omnivore Books and Now Serving. Events have also been added in the UK for Topping and Company (Nigel Slater and others), Waterstones (The Bake Off Finalists and Nisha Katona), and Borough Market has a load of holiday festivities beginning in December. Date change: Rose Levy Beranbaum's podcast with Virginia Willis will be on Nov 6th instead of the 5th.
Jenny and the EYB Team
---
Recently Indexed Titles
Our team of member and pro indexers continue to impress, below are just a few highlights. Recently indexed titles will always show up at the top of the EYB Library so you will always know which titles have just been indexed. Recent indexed magazines can be found here.
---
Member Photos From the Last Two Weeks
Kentucky bourbon cake from Once Upon a Chef: Weekend/Weeknight: 70 Quick-Fix Weeknight Dinners + 30 Luscious Weekend Recipes (page 269) by Jennifer Segal submitted by member Running_with_Wools
---
Pad Thai salad with shredded cabbage and kale from To Asia, With Love: Everyday Asian Recipes and Stories from the Heart (page 197) by Hetty McKinnon submitted by member sayeater
Have you uploaded any of your own photos yet? Learn more! Please remember to update your profile with your Instagram name if you would like to be tagged in any photos that we share!
---
Featured Online Recipes
Cranberry upside-down cake from Leite's Culinaria by Zoë François
Adding Leite's Culinaria to your bookshelf gives you an additional 4,172 recipes
---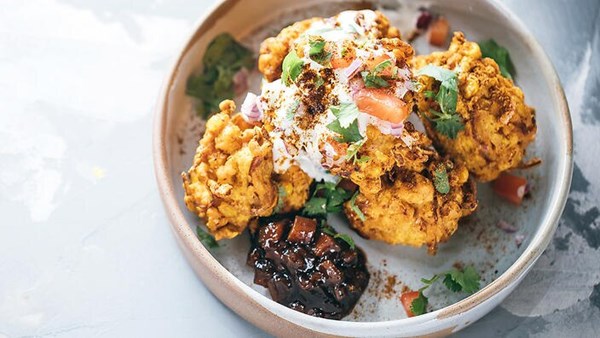 Corn pakoras with chaat masala from Tonight's Dinner: Home Cooking for Every Day by Adam Liaw
Some bonus recently indexed online recipes: see this search for a variety of pies as well as technique recipes.
---
EYBDigital Previews
Recently we uploaded our 1,183rd EYBDigital Preview where a selection of full sample pages is available for the following cookbooks.
Learn more about EYBDigital Previews.
Note: To learn why you cannot add all EYBDigital Preview recipes to your Bookshelf, please read this Help page.
---
Cookbook Giveaways
Click on the Blue Link Below to Enter
The cookbook giveaway roundup shares all current giveaways.